Music Links
These Nots tunes and more are available now:
Reactor, on iTunes
White Noise, on iTunes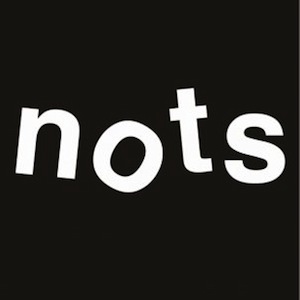 Animal, on iTunes
May 25, Woodside, CA
On a sunny memorial day afternoon in Woodside, weird girl punk group Nots performed for Pressure Drop TV to showcase their startling, dynamic sound. Drawing on an example of vintage Frank Zappa (A Nots Inspiration), this particular show took place in a forested plot in Woodside, CA. The setting, coupled with a black and white stream, made for the perfect homage to not only Zappa but to classic punk rock itself. Hailing from Memphis and Goner Records, Nots, the 2011 brainchild of frontwoman Natalie Hoffman on guitar/vocals and Charlotte Watson on drums released their first single, Dust Red in 2013. Just a year later, the group had expanded to include Madison Farmer on bass and Alexandra Eastburn on the dreamy synthesizer keyboard to release their full length LP "We Are Nots" (2014). Looking the part in black, denim, and rocker-chic hair, Nots' unrelenting energetic set made them a Runaways for the modern age, but with an edge.
The band is characterized by their bitter, resonant lyrics set against aggressive, punk backdrops. Riddled with psychedelic flourishes and an intense drum beat, Nots dove into their performance with the space age-esque "Black Mold", a song which offered a stark contrast to the following "Reactor", a beachy, wild track so hypnotic it captivated through the many synthesizer changes and guitar solos. Singer Natalie Hoffman, formerly of fierce-punk Ex-Cult, shined on this track with her crooning refrains and tumbling, wrenching lyrics. Such was a similar case on the bounding, frantic "Shelf Life", a song which blended the voices of all four artists to create, a raw, recurrent sound. It's no secret that these girls can write and even sing; their tracks convey anger and misfortune, resolution and joy, but it's their musical prowess that makes them a force to be reckoned with. Watson's versatile range on the drums shows on the even, pulsing "Monotone" before taking a sharp turn into the beachy, erratic "Strange Rage", a song which layers raging guitar and bass with Eastburn's pyschedelic synthesizer. 
The set was full of twists and turns, with many songs opening soft ending up dangerous - as on track, "Virgin Mary", which initially oozed innocence before building to something brash and untamed. The closing "White Noise" was no different. What started as a soft hypno beat soon exploded into a collision of sound moving at the speed of light with a blended group refrain. Though they come from the south, these feisty, untamed ladies are anything but southern bells. If their set was any indication of things to come, this is Nots' world, and we're just lucky to be a part of it.
Nots will continue their tour and performances in the months to come, as updated on their facebook page.
- Sophia Weiss